A fast-paced action matching game. This exciting game requires both speed and keen observation as kids race to the finish to match up all the tiles to their gameboard. Sounds simple? You'll be surprised! All tiles are double sided! you must flip and switch then switch and flip until all tiles are in place. Different challenge every time.
Racing Hedgehogs is a strategic family game that requires prediction skills and a touch of cunning in order to win … Each player on their turn plays a card from their hand, which determines which hedgehog to move and how many steps to take. The race ends when the first hedgehog reaches the end of the track.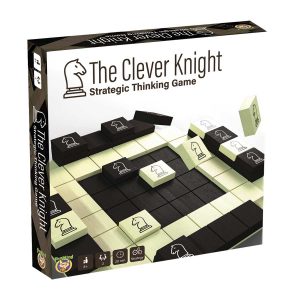 A strategy game for 2 players. Try to create a sequence of 4 tiles of your color inside the inner quadrangle of the board. Tiles advance in the familiar chess steps and may be placed on top of each other. The game has simple rules and guarantees hours of fun. A game for developing a thinking strategy and the ability to plan moves.
A monstrously fun game of describing & listening
Are you brave enough to make a monster? Make monster matches by describing your half monster and collecting the matching half from other players. The cards can be used in a variety of other ways to strengthen expressive language, listening, and memory skills while having fun!
Balance your books! In this original 3D puzzle, stack up to 12 differently shaped books – and one clever cat – so that the upper shelf lies perfectly even across the top. Use the special included level to make sure everything is aligned. Master all 40 challenges and you're on a level above the rest!