A fast-paced action matching game. This exciting game requires both speed and keen observation as kids race to the finish to match up all the tiles to their gameboard. Sounds simple? You'll be surprised! All tiles are double sided! you must flip and switch then switch and flip until all tiles are in place. Different challenge every time.
Racing Hedgehogs is a strategic family game that requires prediction skills and a touch of cunning in order to win … Each player on their turn plays a card from their hand, which determines which hedgehog to move and how many steps to take. The race ends when the first hedgehog reaches the end of the track.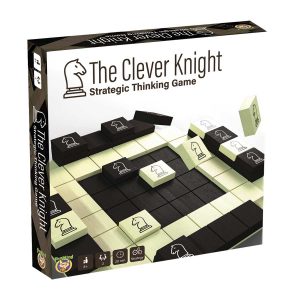 A strategy game for 2 players. Try to create a sequence of 4 tiles of your color inside the inner quadrangle of the board. Tiles advance in the familiar chess steps and may be placed on top of each other. The game has simple rules and guarantees hours of fun. A game for developing a thinking strategy and the ability to plan moves.
A monstrously fun game of describing & listening
Are you brave enough to make a monster? Make monster matches by describing your half monster and collecting the matching half from other players. The cards can be used in a variety of other ways to strengthen expressive language, listening, and memory skills while having fun!
A challenging card game in which players practice adding and subtracting so they can win the largest amount of cards. The entire game revolves around the number 10. Whoever reaches it exactly, scores! Whoever misses it by a few points might lose! In this fun and amusing game players must make decisions with every turn. Use your cards wisely, lay traps for the other players and make your way towards a perfect victory!
3 Firemen against the fire
A fire has started and we must hurry to save the frightened house. The firemen are on their way, in a race to get to the house before the fire does. Help them to reach the house before the fire and celebrate victory together. This is a game of co-operation. The players play together against the fire. The victory is shared and the fun multiplied!
A sophisticated memory game
Treasure crates, diamond rings, robots and many toys are hidden by the Dragon in his cave! Turn over the tiles one by one to discover these treasures. However, beware of the Dragons or the spiders that may emerge to hunt you. If they do, your turn is over and you lose all your treasures!
A clever game that spins around
You got off the plane, arrived to pick up your luggage and found out it was replaced? Whether you've arrived for a vacation, a business trip or a family visit, you probably have exciting plans for the next few days. But first – don't forget to collect your luggage before leaving the airport! Not as simple as it seems!
Balance your books! In this original 3D puzzle, stack up to 12 differently shaped books – and one clever cat – so that the upper shelf lies perfectly even across the top. Use the special included level to make sure everything is aligned. Master all 40 challenges and you're on a level above the rest!
Octi may look simple, but victory is incumbent on skill and strategy. Players compete over who will be the first to place a peg over their opponents square. It's all about making choices, between gaining power and progressing. A new thinking game, simple to understand and still clever.